Note: Brochures of properties listed here are now available for download. In order to read or print these brochures you require Acrobat Reader software, available free of charge from Adobe Systems. If you encounter any difficulties, please let us know.


April 22, 2015xxxxx
South & east exposure, stunning views overlooking the crashing surf and a lovely ±2500 sq ft cape with attached garage, all within 5 minutes of theatre, hospital and shopping in Liverpool. $439,000. Cdn Call 1-888-624-1991.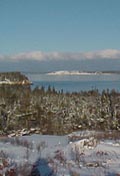 REAL ESTATE FOR SALE - browse our index of Nova Scotia property, including a wide selection of oceanfront homes and oceanfront land. Brochures can be downloaded.
SEARCH ALL MLS® LISTINGS - Land & Sea is a member and would be pleased to work with you on any MLS listings. Call us tollfree or email us.
LAND & SEA - who we are, how to contact us and how we can help you find your Nova Scotia dream.
LOCAL LINKS - a collection of Nova Scotia sites to visit.
© Copyright 2010-2015. Land & Sea Real Estate Services Inc. All Rights Reserved